Cabinet Caster Wheels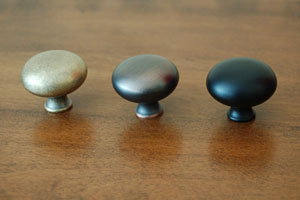 When upgrading or personalizing the look of your home, there are many things that work together to create the style that you have in mind. While many things like new paint or carpet are obvious and not often overlooked, smaller items may be. These smaller details often have a huge influence on a home's style.

Cabinets are used in a number of places in your home. They are used in the kitchen, in the bathroom, and sometimes in a laundry room or garage. These cabinets vary widely in style and construction depending on their purpose and the motif they are made to work with. Cabinet hardware should be carefully considered when selecting cabinets or just upgrading a look. These hardware pieces consist of pulls and slides for cabinet drawers as well as handles, knobs, catches and hinges for cabinet doors. Some cabinet makers offer stock hardware that co-ordinates with their cabinets, but if their standard cabinet hardware doesn't appeal to you, you can find a more extensive selection of styles and finishes at a good hardware store or home center. Most cabinet hardware will work for both frameless or face-frame cabinets, but cabinet door hinges are often designed specifically for frameless or face-frame cabinet doors. Under mount drawer slides are usually designed for face-frame cabinet drawers only.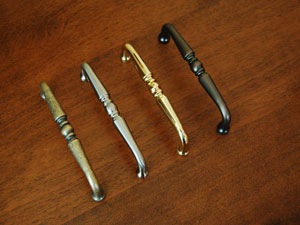 New hardware is one of the easiest and most cost-effective ways to update the look of your kitchen cabinets. There are a variety of styles, finishes, and colors to choose from, whether you are looking for a sleek, modern, traditional, or country theme. Creative hardware and accessories will add new life to your kitchen cabinets and can make an amazing difference in the look and feel of your entire kitchen.
Decorative cabinet hardware is usually made out of metal, wood, porcelain, or glass. Steel, brass, and stainless steel are commonly used for their strength and durability. Steel hardware is often plated to produce matte finishes like pewter, copper, brushed nickel, and antique brass or lustrous finishes like bright brass or polished chrome.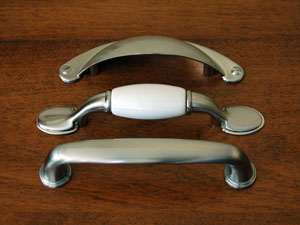 In addition to the hardware's appearance, be sure that the cabinet door knobs and drawer pulls you select are comfortable to grip and easy to clean. If your hands or fingers tend to get stiff, consider C-shaped or U-shaped hardware rather than knobs. Ensure that the knobs and pulls have no recesses or crannies where dust and dirt could accumulate.
Here at CabinetHardware.us, we offer convenient access to selected cabinet hardware manufacturers and dealers, as well as Service Magic, a service that can help you find local cabinet makers and installers.
Cabinet Hardware Dealers
Cabinet Hardware Manufacturers
Eurostyle Cabinet Hardware Manufacturers
---
Copyright 2004-2023 Zeducorp.
All rights reserved.
About Us
.
Contact Us
.
Search
.
For your convenience, certain image links will open in new windows.
Cabinet Hardware - Knobs and Pulls - Hinges and Slides
Cabinet Door Hardware - Cabinet Drawer Hardware
Related Cabinet Images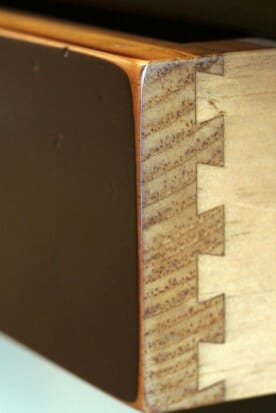 Dovetail Joint On A Cabinet Drawer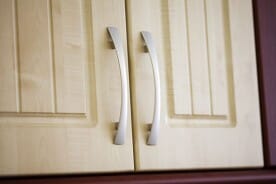 Cabinet Doors